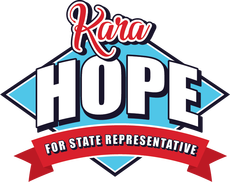 ​Former state representatives, many local leaders support Kara Hope
Delhi Township (Jan. 18, 2018) -- Democratic state representative candidate Kara Hope recently announced many important endorsements, including the endorsements of six former state representatives.

"It is a huge honor to have those who have formerly served in the legislature support my campaign," Hope said. "Because I've served as a county commissioner for the past several years, these former state reps and local leaders have had the opportunity to work with me and to see me in action. It means a lot for them to place their trust in me."
​
Among those endorsing Hope are two women who have previously held the 67th district house seat: Ingham County Clerk Barb Byrum and Michigan State University Trustee Dianne Byrum. Hope also has the support of Andy Schor, who recently left the state house to serve as Lansing's mayor. East Lansing Mayor and former state representative Mark Meadows supports Hope as do former state representatives Lynne Martinez and Joan Bauer.

In addition, a number of Ingham County officials are supporting Hope, including Prosecutor Carol Siemon, Sheriff Scott Wriggelsworth, Drain Commissioner Pat Lindemann, and commissioners Sarah Anthony, Victor Celentino, Bryan Crenshaw, Ryan Sebolt, and Todd Tennis. Former Ingham County Sheriff Gene Wriggelsworth, who resides in the 67th house district, and former Ingham County Commissioner Rebecca Bahar-Cook have endorsed Hope.
​
Lansing City Councilperson Adam Hussain is supporting Hope as are Leslie Mayor Jennifer Shuster, Mason City Councilperson Marlon Brown, and Lansing Community College Trustee Ryan Buck. Hope also has the support of the Delhi Democratic Club.
---