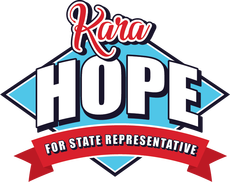 News & Endorsements
---
Rep. Tom Cochran, Sen. Curtis Hertel Endorse Kara Hope for State Representative
Legislators Say Hope Will Stand Up for Ingham County Citizens, Make Government More Accountable
DELHI TWP.
(Feb. 14, 2018) — State Rep.
Tom Cochran
(D-Mason) and state Sen.
Curtis Hertel Jr.
(D-Meridian Twp.) today both endorsed Democrat
Kara Hope
for the 67th state House District.
Cochran has represented the 67th District in Ingham County since 2013 and is term-limited this year. He has worked on economic, infrastructure, and quality of life issues with Hope, who was first elected to the Ingham County Board of Commissioners in 2012.
Hope also has the support of the last woman to represent the 67th District: Ingha
m County Clerk
Barb Byrum
.
​
"As a longtime resident of Delhi Twp. and a county commissioner, Kara understands the unique concerns of Ingham County residents who want good jobs, great schools and better roads. I know that in the Legislature, she will bring her experience in making government more transparent and accountable," said state Rep.
Tom Cochran
(D-Mason).
The 67th District includes the
city of Lansing
, Delhi Twp., Williamston, Mason, Vevay Twp., Leslie, Alaiedon Twp., Stockbridge Twp., Wheatfield Twp., Leroy Twp., Aurelius Twp., White Oak Twp., Ingham Twp., Bunker Hill Twp. and Onondaga Twp.
Michigan ranks
dead last
in ethics and transparency, according to the most recent study by the
Center for Public Integrity and Global Integrity.
"We need a champion of progressive values in the 67th District and more women leaders in the Legislature. Kara has a proven record. She can be counted on to stand up for important issues like equal pay for women and eliminating the retirement tax that hurts seniors," said
state Sen.
Curtis Hertel Jr.
(D-Meridian Twp.)
.
"It means a lot to me to be Rep. Cochran's choice to succeed him in the 67th District and I look forward to working closely with Sen. Hertel if Ingham County voters choose me to represent them in Lansing. I have always believed that people deserve a government that is responsive to their needs and officials who are held to the highest ethical standards. Michigan needs change and I pledge to fight for much-needed reforms in the Legislature," said Ingham County Commissioner
Kara Hope
.
Hope is an attorney who just completed her third year as chairperson of the Tri-County Aging Consortium Board. In 2017, she chaired the county's Law and Courts Committee and its Indigent Defense Collaborative Committee. She donates legal services to community organizations like the Mid-Michigan Environmental Action Council and founded the all-volunteer, nonprofit Holt Community Arts Council in 2008.
---
​Former state representatives, many local leaders support Kara Hope
Delhi Township (Jan. 18, 2018) -- Democratic state representative candidate Kara Hope recently announced many important endorsements, including the endorsements of six former state representatives.

"It is a huge honor to have those who have formerly served in the legislature support my campaign," Hope said. "Because I've served as a county commissioner for the past several years, these former state reps and local leaders have had the opportunity to work with me and to see me in action. It means a lot for them to place their trust in me."
​
Among those endorsing Hope are two women who have previously held the 67th district house seat: Ingham County Clerk Barb Byrum and Michigan State University Trustee Dianne Byrum. Hope also has the support of Andy Schor, who recently left the state house to serve as Lansing's mayor. East Lansing Mayor and former state representative Mark Meadows supports Hope as do former state representatives Lynne Martinez and Joan Bauer.

In addition, a number of Ingham County officials are supporting Hope, including Prosecutor Carol Siemon, Sheriff Scott Wriggelsworth, Drain Commissioner Pat Lindemann, and commissioners Sarah Anthony, Victor Celentino, Bryan Crenshaw, Ryan Sebolt, and Todd Tennis. Former Ingham County Sheriff Gene Wriggelsworth, who resides in the 67th house district, and former Ingham County Commissioner Rebecca Bahar-Cook have endorsed Hope.
​
Lansing City Councilperson Adam Hussain is supporting Hope as are Leslie Mayor Jennifer Shuster, Mason City Councilperson Marlon Brown, and Lansing Community College Trustee Ryan Buck. Hope also has the support of the Delhi Democratic Club.
---